What it is:
[ me·dia am·bit ] noun:
Technical and semantic metadata about moving images, sounds, and timed text; embedded in files or externally centralized.
Sentence example: Their system uses media ambits to automate ingest and delivery.
Variations: Video Ambit, HDR Ambit, Audio Ambit, Timed Text Ambit, etc.
Automation is essential, but …
Human intervention cannot be excluded.
Thus, our slogan is: "Augmented Intelligence for robot-assisted human decisions"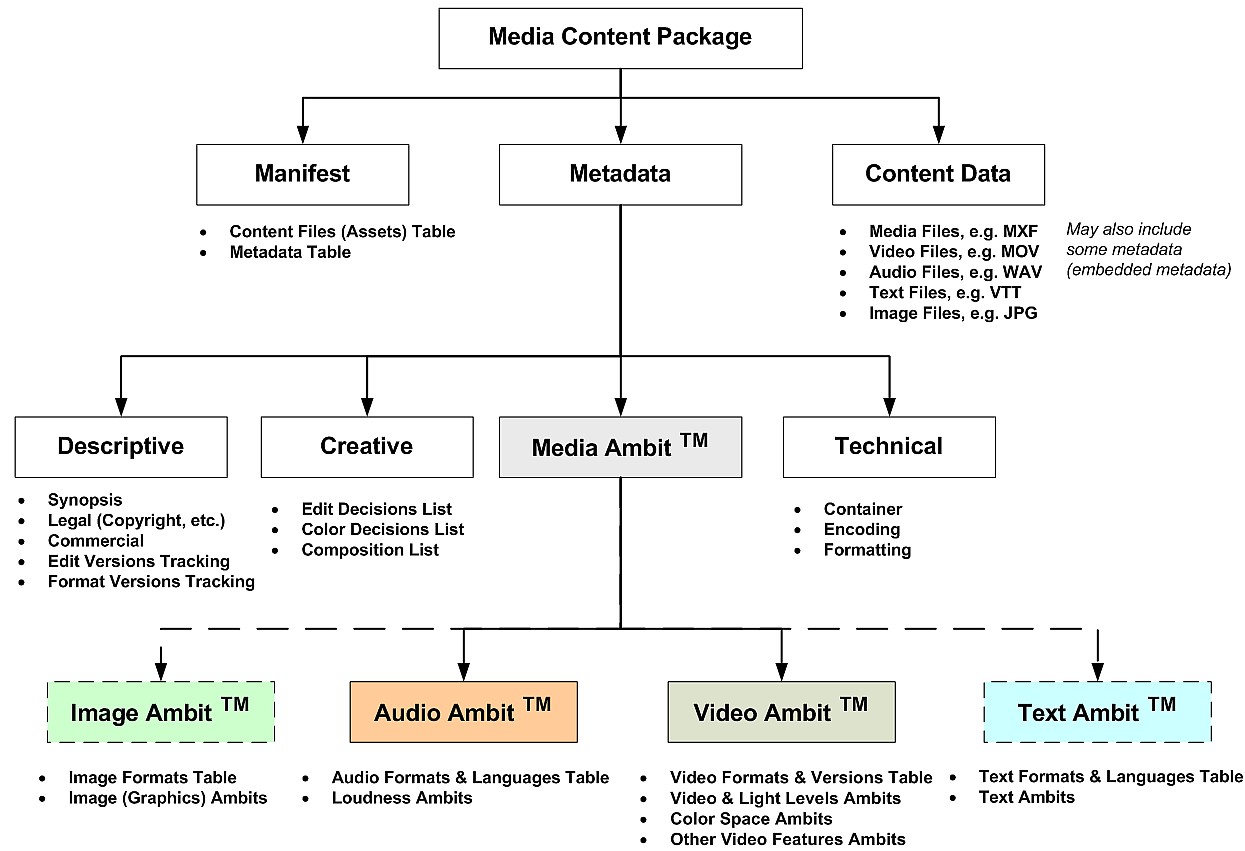 Media Ambits are at heart of any modern Automated and Automation-Assisted Workflow.
VideoQ Philosophy of Media Data Processing:
Automatically generated Extended Technical Metadata and Reports are must be and must cover:
Image aspect ratio, contrast, sharpness, sound loudness, noise and other unwanted components levels and profiles are among the most
critical parameters affecting the subjective estimation of AV content quality.
Traditional professional image & sound QA/QC methodology, based on the usage of large number of high grade video & audio monitors, etc, is no longer the answer, but we learn that QA/QC is still needed.
In this automated environment a smaller number of human operators should focus only on optional final checks and/or complicated cases.
And these operators must be equipped with appropriate software tools and indicators presenting all relevant ETM parameters in a time-saving "easy to spot at a glance" way.
At the core:
As amount of content increases, the proliferation of media processes that require automation in all parts of the video
logistics chain is in state of boom.
Our involvement in this process is through development and deployment of sophisticated modular software products that can gather, generate and apply technical metadata from video, audio, captions, and images to facilitate automation at every stage of the workflow.
These special cross-platform enabled modules are uniquely designed to scale in accordance with customer needs and resources, and flow through machine friendly constructs, while being human readable when desired.
These modules share common metadata format, which facilitates the interoperability between the modules as well as interaction with other tools used within the processes.
It is of paramount importance that processes have sensors within the workflow steps to provide necessary feedback and allow systems, as well as humans, to make optimal decisions based on objective data rather than on perception of skilled individual.
The foundation for such decision making is proper toolset, along with processes, that can easily provide, compare and check the outcome reliably, consistently, and at all times.
What we offer is a series of interconnected modules designed to operate at any scale in the public or private cloud to augment media processing supply chain, while ensuring high quality output as well as operational savings, transcoding cost reduction, significant bitrate saving and guaranteed delivery to higher number of viewers
VQPT (VideoQ Productivity Tools) is a suite of essential tools for Ambit-based automated and automation-assisted workflows:
Machine-readable ETM reports in JSON format
Plot images suitable for human operator
Robot-assisted human decision-making tools
Automated and manual control of optimized video and audio processing/conversion
Automated and manual quality assurance and quality control tools
Notify machines, people and dashboards in automated workflows
Learn more: Advanced Metadata Acquisition & Usage (PDF)