Color Bars is the most used Test Pattern known for more than 50 years. It can be used in classic full screen variant and it is  also an important component of many other tests.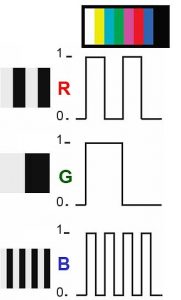 The simplest and oldest color bars variant is a sequence of eight vertical bars of 100% (maximum intensity) colors.
This sequence can be produced in RGB format by a simple 3-bit counter.
The standard color bar sequence is
White, Yellow, Cyan, Green, Magenta,Red, Blue, Black. Six colored bars show 3 Primary Colors – Red, Green, Blue  and 3 Complementary Colors – Cyan, Magenta, Yellow; White and Black bars  provide for Reference White & Reference Black.
The typical specification of color bar levels (ITU-R Recommendation BT.471 "Nomenclature and Description of Color Bar Signals") is a set of four numbers separated by slashes or dots and giving RGB levels as a percentage of Reference White in the following sequence:
White Bar / Black Bar / Max Colored Bars / Min Colored Bars.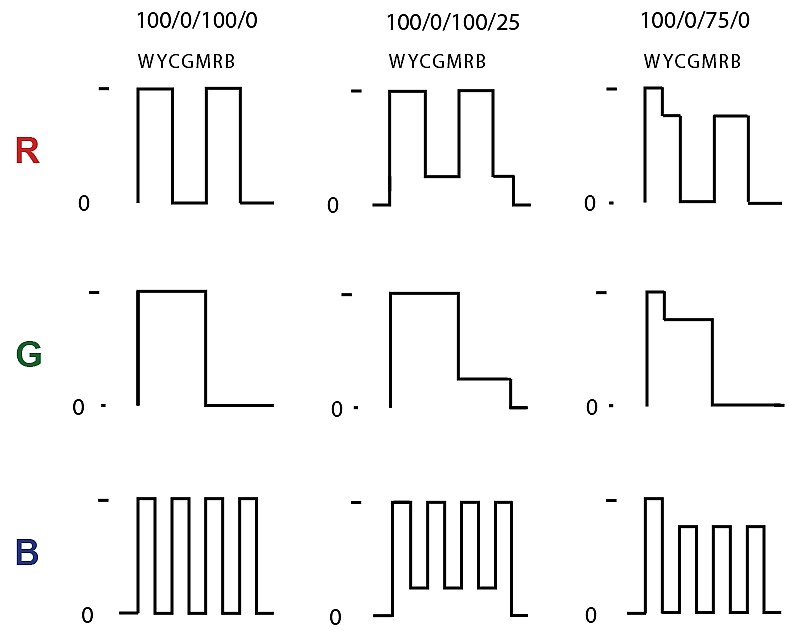 Some color bar patterns merit special names.
For instance, 100/0/75/0 bars are often called "EBU Bars", and 100/0/100/25 bars are known as "BBC Bars" or "95 % Bars".
Widespread "SMPTE Bars" are, in fact, multi-component test pattern, where 75/0/75/0 color bars occupy upper part of the image (2/3 of picture height). There are several versions of this test. The original 40 years old NTSC version is shown below: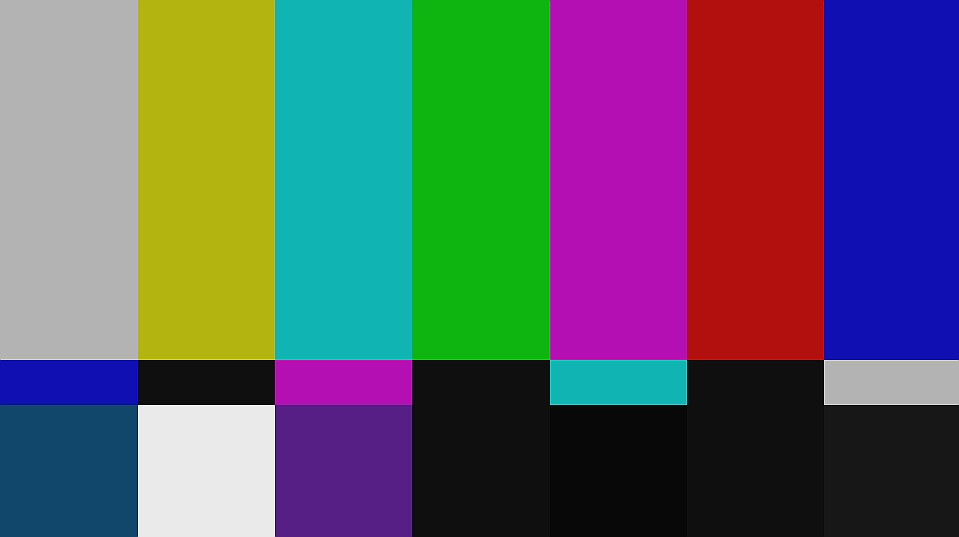 The arrival of new HDR and WCG technologies added new twist to the history of this test. Now we should test not only RGB or YUV Signal Levels, but also the Light Levels of the media files content and rendered color bars images.
The Reference White data values and the corresponding Light Levels depend on the Dynamic Range mode. Thus, we have to deal with at least 3 different types of color bars levels:
Moreover, wide usage of  several different color spaces (at least three Encoding Color Matrices and two RGB ⇔YUV Mapping Schemes) further increases the number of possible variants.
See also:
Tables and reference values, such as Color Bars Reference Levels for a variety of Color Spaces.
Learn more:
See posts in the Video Science Fundamentals category.